Koepka Hits Back on Phil's 'Obnoxious Greed' Comments
Brooks Koepka traffics in trolling, and give the man this: He is democratic in his aim. On Thursday, Phil Mickelson was the latest target for the four-time major winner.
Mickelson, in case you missed, was defiant in an interview with Golf Digest's John Huggan regarding his beliefs that the PGA Tour is shorting its playing members over media rights. "It's not public knowledge, all that goes on," Mickelson told Huggan. "But the players don't have access to their own media. If the tour wanted to end any threat [from Saudi or anywhere else], they could just hand back the media rights to the players. But they would rather throw $25 million here and $40 million there than give back the roughly $20 billion in digital assets they control. Or give up access to the $50-plus million they make every year on their own media channel.
"There are many issues, but that is one of the biggest. For me personally, it's not enough that they are sitting on hundreds of millions of digital moments. They also have access to my shots, access I do not have. They also charge companies to use shots I have hit. And when I did 'The Match'—there have been five of them—the tour forced me to pay them $1 million each time. For my own media rights. That type of greed is, to me, beyond obnoxious."
In the normally-docile ambiance of PGA Tour life, Mickelson's comments are as confrontational as it gets. Further amplifying this stance is its timing, as Mickelson is playing this week in the Saudi International, a tournament sponsored by the same Saudi-funded group that is backing LIV Golf Investments, which is exploring a rival circuit to the PGA and DP World Tours.
Koepka Claps Back
While Mickelson's comments have made headlines, at least one player—the aforementioned Koepka—is not buying them. At least that's what can be surmised by Koepka's response on social media to the Mickelson story.
"[Don't know] if I'd be using the word greedy if I'm Phil …" Koepka's account wrote on Instagram.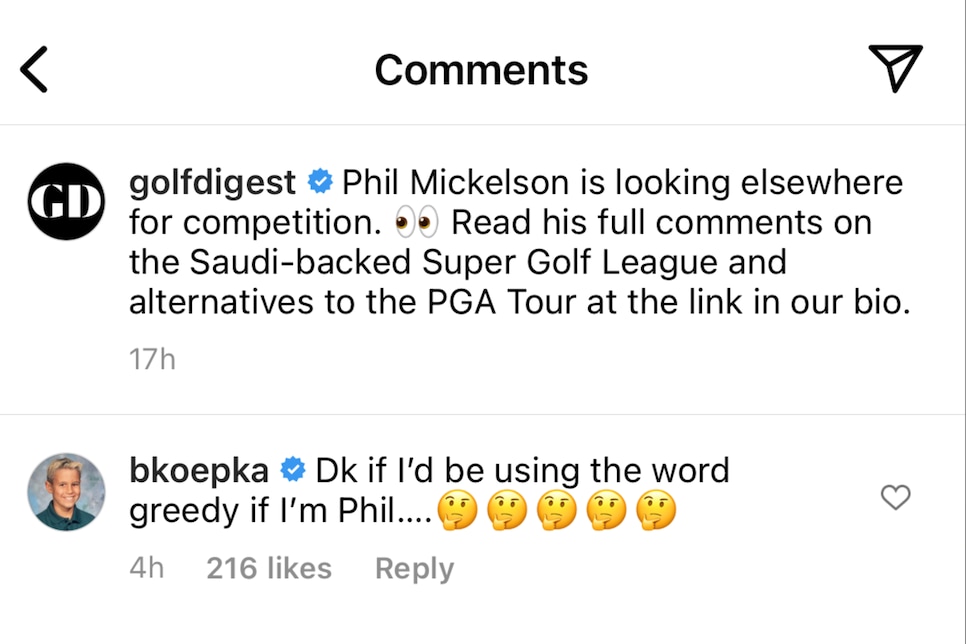 Koepka took part in the latest iteration of "The Match," which was executive produced by Mickelson. Koepka and Mickelson also faced off in the final group of the 2021 PGA Championship at Kiawah Island's Ocean Course, where Mickelson bested Koepka to become the oldest winner in major championship history. Koepka would later tell Golf Digest that he was "trounced" by an act of gamesmanship from Mickelson.
"His body language. I don't want to give it away, but I didn't handle it well," Koepka said. "You'll have to ask him about it. I think he knew what he was doing. It wasn't the reason I lost. I lost because I didn't play well enough. It was tough for me to get into a rhythm, and the timing of how things were going. I could see [what he was doing] because I know it. I do it."
Mickelson, it should be noted, is one of the players the yet-to-be-launched Saudi league is targeting. Though he would only note that "Pretty much every player in the top 100 in the world has been contacted," when asked if he's received a proposal this week, Mickelson's comments to Huggan were a bit more ominous.
"I'm not sure how this is going to play out," Mickelson said. "My ultimate loyalty is to the game of golf and what it has given me. I am so appreciative of the life it has provided. I don't know what is going to happen. I don't know where things are headed. But I know I will be criticized. That's not my concern. All that would do is dumb down one of the most intricate issues in sports. It would be so naive to not factor in all of the complexities. The media rights are but a small fraction of everything else. And it is the tour's obnoxious greed that has really opened the door for opportunities elsewhere."
This article originally appeared on Golf Digest.