The Biggest Feuds in Golf History
Editor's Note: This story first ran in early June ahead of the U.S. Open. In the meantime, the public spat between Bryson DeChambeau and Brooks Koepka took plenty more twists and turns, leading up to the eventual announcement that the two would square off against each other in a 12-hole competition in Las Vegas the Friday after Thanksgiving. Their bickering still sets up the interesting question of where does this "feud" rank in the history of golf's greatest feuds. 






What started as something amusing last month—an eye roll during a TV segment that was never supposed to be seen by the public—has blossomed into a full-blown, honest-to-god feud between Brooks Koepka and Bryson DeChambeau. These are two men who clearly hold each other in low regard, and it's gotten so bad that Koepka gave a public wink-and-nod to hecklers who call his rival "Brooksy," and DeChambeau has hinted, in turn, that the PGA Tour needs to intervene. Even in the age of social media, which has a way of heightening conflict, the escalation here is intense.

As we steam toward the U.S. Open, where Koepka and DeChambeau make up three of the last four winners, it leads to thoughts about the other intense feuds in golf history. It may be a "gentleman's game," but that doesn't mean bad blood won't boil on and off the course in the right conditions. What follows is our assessment of the top feuds in pro golf history.

13. PGA Tour vs. PGA of America
This is very much a "back in the day" type feud—the lingering embers of the fight have mostly burned out—but how can you not include a foundational rift in American golf? This is when one organization split into two—the PGA Tour as the competition entity, the PGA of America as the grassroots conduit to the game. Most identify the start date of the PGA Tour as 1968, when several players, including Arnold Palmer and Jack Nicklaus, finally got sufficiently fed up with the uneven distribution of the profits of professional golf. They demanded a bigger share for themselves, and eventually broke off into what would soon become the PGA Tour. In fact, smaller efforts at this outcome had been made for decades, and it was probably a historical inevitability. Still, it utterly altered the landscape of professional golf and has plenty of echoes in the modern game.

12. Rory Sabbatini vs. Ben Crane

Ben Crane is a notorious slow player, and Rory Sabbatini is a notorious ball of rage, so when the two were paired together three times at the 2005 Booz Allen Classic, it might have been more surprising if nothing happened. Sabbatini made it all the way to the final holes on Sunday before blowing up, but on the 17th hole, after hitting his approach into the water, he lost his cool and walked up to the green before Crane had the chance to his second. When Crane hit, Sabbatini chipped, putted out and walked to the 18th tee without waiting for Crane. The "feud" in this case was more like an isolated incident, for which Sabbatini soon apologized. It didn't last long, but it's telling that even though Sabbatini isn't the tour's most popular player, a lot of his colleagues reacted sympathetically to his demonstration.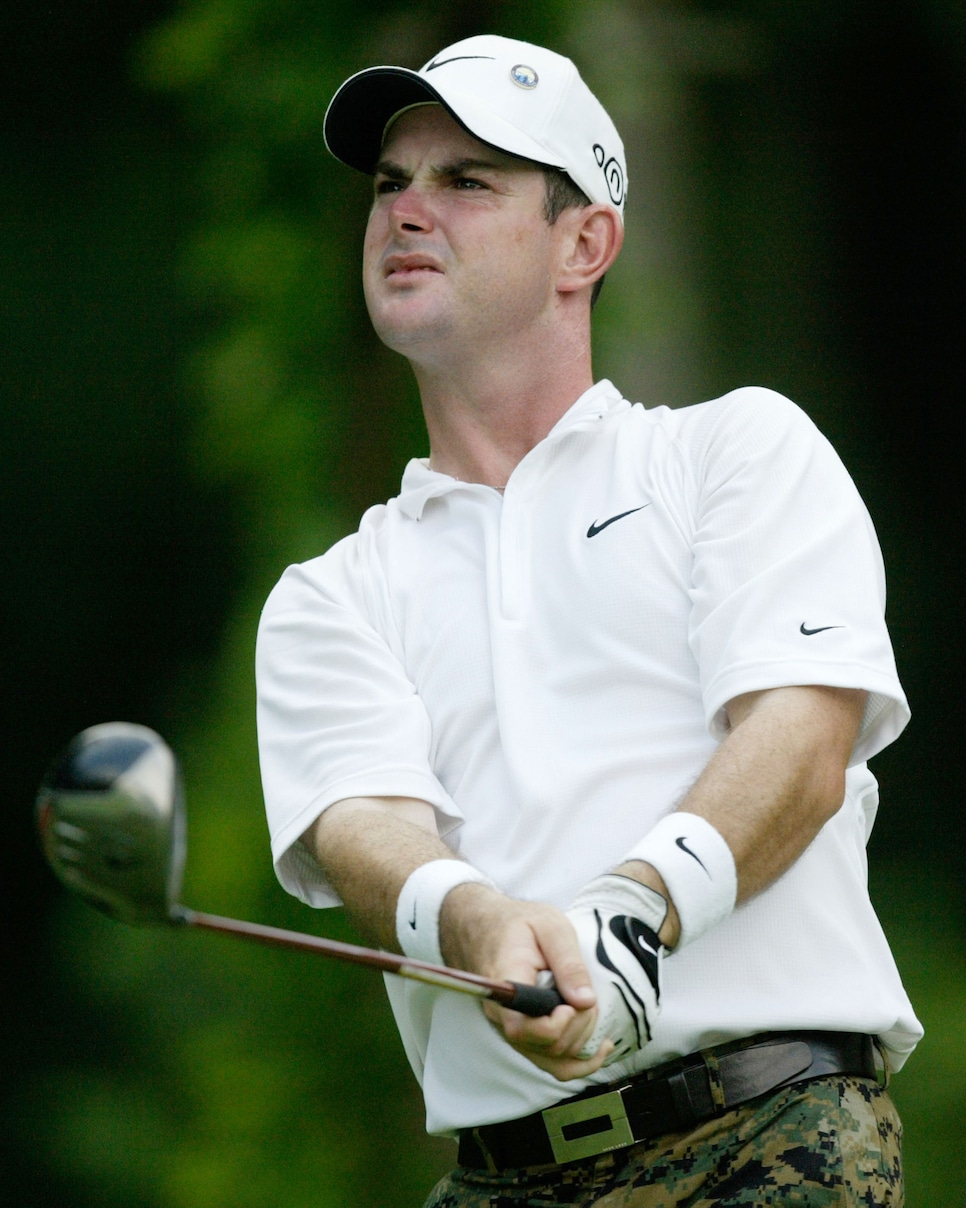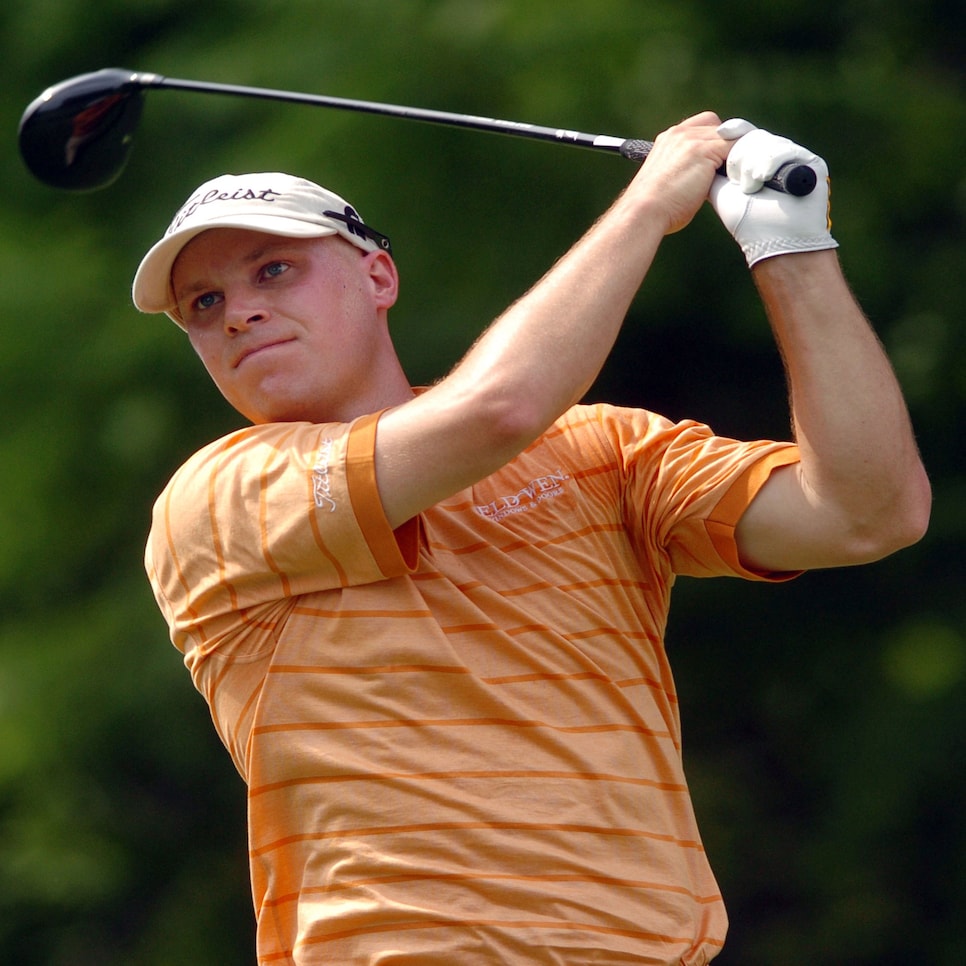 <
11. Patrick Reed vs. Jordan Spieth

Feuds tend to emerge between two people who are extremely different, or extremely similar, and in this case it's the difference that spurs the conflict. Is this a one-sided feud, because Spieth is very old school in keeping this kind of drama private? Yes. Is it a little vague, a little subtle? Maybe. Or at least it was, in the beginning; the relationship hit a high point in 2014, when they formed a terrific pair at the Gleneagles Ryder Cup, and that continued in 2016 at Hazeltine and at the 2017 Presidents Cup. Then, in 2018, the first sign of a schism: When denied relief by an official at Bay Hill that March, Reed grumbled, "I guess my name needs to be Jordan Spieth, guys." Shortly thereafter at the WGC-Match Play, Reed made a joke about having carried Spieth at the Ryder Cup. The real fireworks, however, came later that year in Paris, when the two didn't play together at the Ryder Cup and Reed gave his famous backbiting interview to The New York Times saying, "The issue's obviously with Jordan not wanting to play with me. I don't have any issue with Jordan. When it comes right down to it, I don't care if I like the person I'm paired with or if the person likes me as long as it works and it sets up the team for success."

Again, this is mild stuff as far as it goes, which is mostly thanks to Spieth's even temperament. But when you put the tour's equivalent of what the British press once described as a "pantomime villain" in such close proximity to the golden boy, over and over, the tensions eventually bubble over.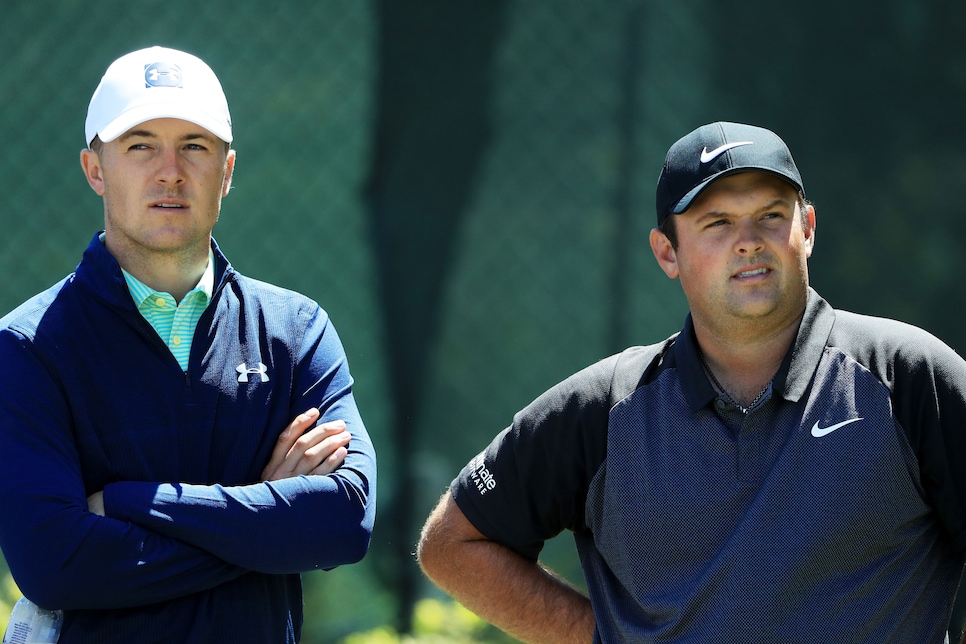 Andrew Redington
10. Tommy Bolt vs. Eric Brown
One man was nicknamed "Thunder," and the other "The Fiery Scot." Need I say more? Well, I'll say a little: They were matched up together in singles at the 1957 Ryder Cup, and after Brown took a 3-up lead, he thought the American Bolt was playing slow on purpose. His solution? Send his caddie to go off and get a chair. Brown won the match and when Bolt told him he hadn't enjoyed it, Brown rubbed it in: "I don't suppose you did … because even you knew when the games were drawn that you never had an earthly hope of beating me." Afterward, Bolt took a shot at the English crowd: "Individually they are pretty nice folks. But get them together and they are about as miserable a bunch of people as you could ever have the misfortune to run into in a supposedly civilized world." And you thought the Ryder Cup didn't get heated until the 1980s.

9. Tom Watson vs. Gary Player
Long story short, Watson accused Gary Player of cheating. It happened in at the 1983 Skins Game, and was meant to be a private conversation, but New York Times columnist Dave Anderson overheard the exchange in a parking lot and wrote about it. Watson's contention was that Player had improved his lie by moving some blades of grass before a chip shot, and Player defended himself, saying he was "within the rules." Their enmity didn't persist, at least publicly, and Watson seriously regretted that what he thought was a private moment became publicized.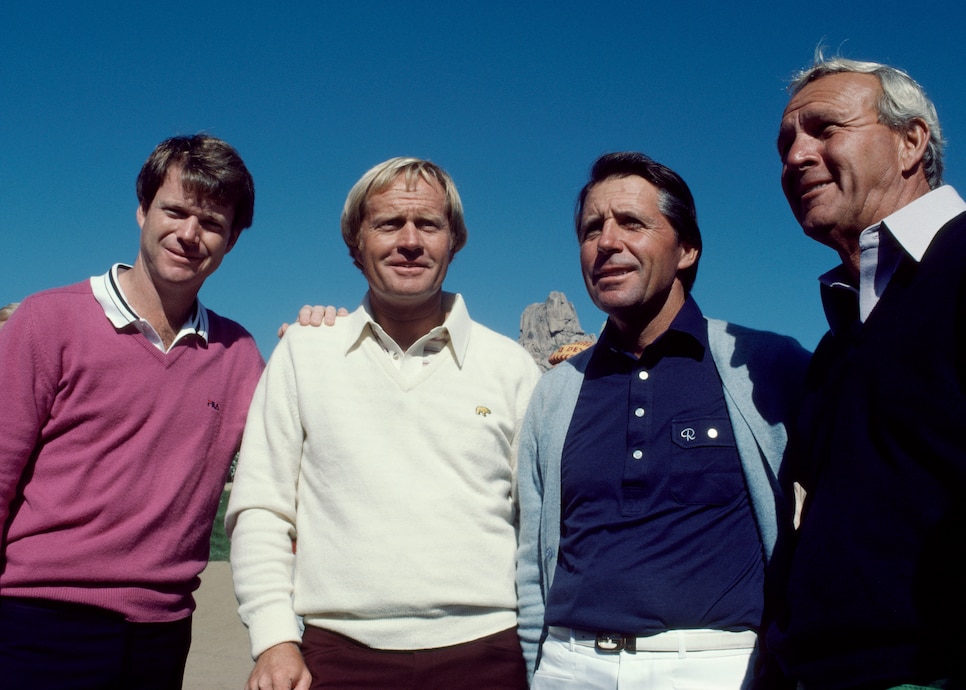 Paul Popper/Popperfoto
8. Vijay Singh vs. Phil Mickelson
It's impossible not to include Singh in this list in some form, since, as others have noted, he seemed to have feuded with everyone. We'll settle for Mickelson, who was ratted out by Singh at the 2005 Masters for leaving long spike marks on the greens. Mickelson's contemporary comment on the matter is a masterclass in understatement:






"After sitting in the locker for a while, I heard Vijay talking to other players about it and I confronted him. He expressed his concerns. I expressed my disappointment with the way it was handled. I believe everything is fine now."
What actually went down was an "animated shouting match that nearly evolved into blows," per the New York Post. Things cooled down after that, but with a player like Vijay, whose list of enemies includes everyone from Tiger to the PGA Tour itself, tensions like these never truly wane.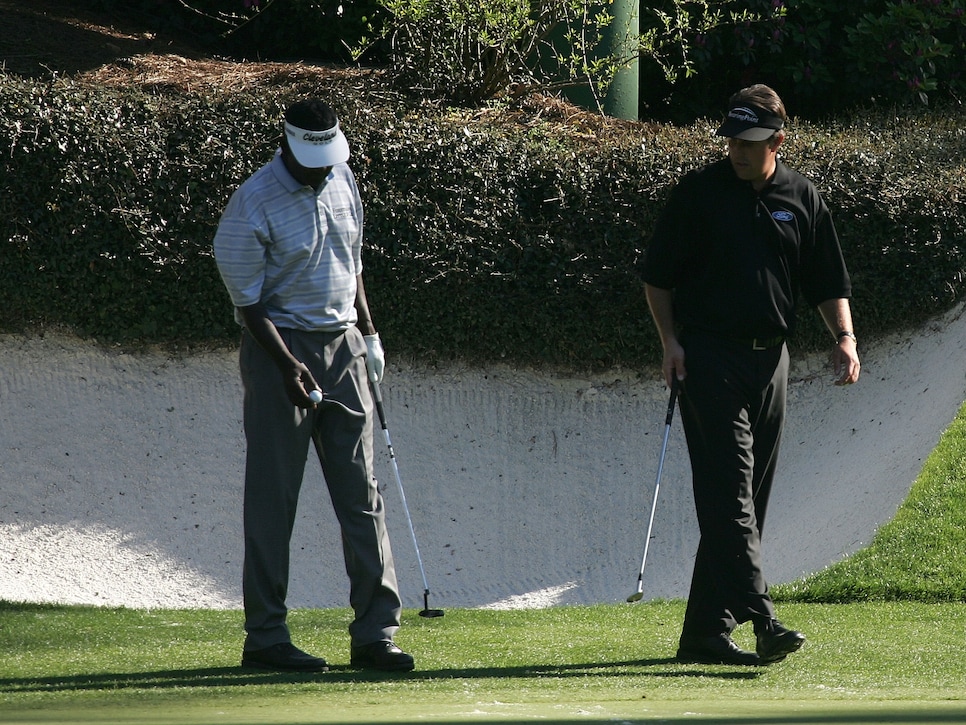 Harry How
7. Sergio Garcia vs. Nick Faldo

This all stems from the disastrous 2008 Ryder Cup, when Faldo turned in the worst European captaincy in 40 years as the Americans ran roughshod at Valhalla. Bad feelings about that loss were more acute in European circles than it might have looked from the outside, and it prompted some serious soul-searching and a shift in how captains were selected for the team (more succession-after-vice-captain experience, less lifetime-achievement award). In 2014, on the Golf Channel, Faldo responded to a comment about Garcia's Ryder Cup prowess by saying the Spaniard had been "useless" in Kentucky. In later quotes, Faldo brought up Garcia's lack of passion stemming from his break-up with Greg Norman's daughter.

While there was some bickering back and forth at Gleneagles, the really great line came four years later, after Garcia won three points in Paris and became Europe's all-time Ryder Cup point leader. When asked how he felt, he dropped this gem: "This means a lot to me," Garcia said. "I have passed some of my heroes today—and Nick Faldo."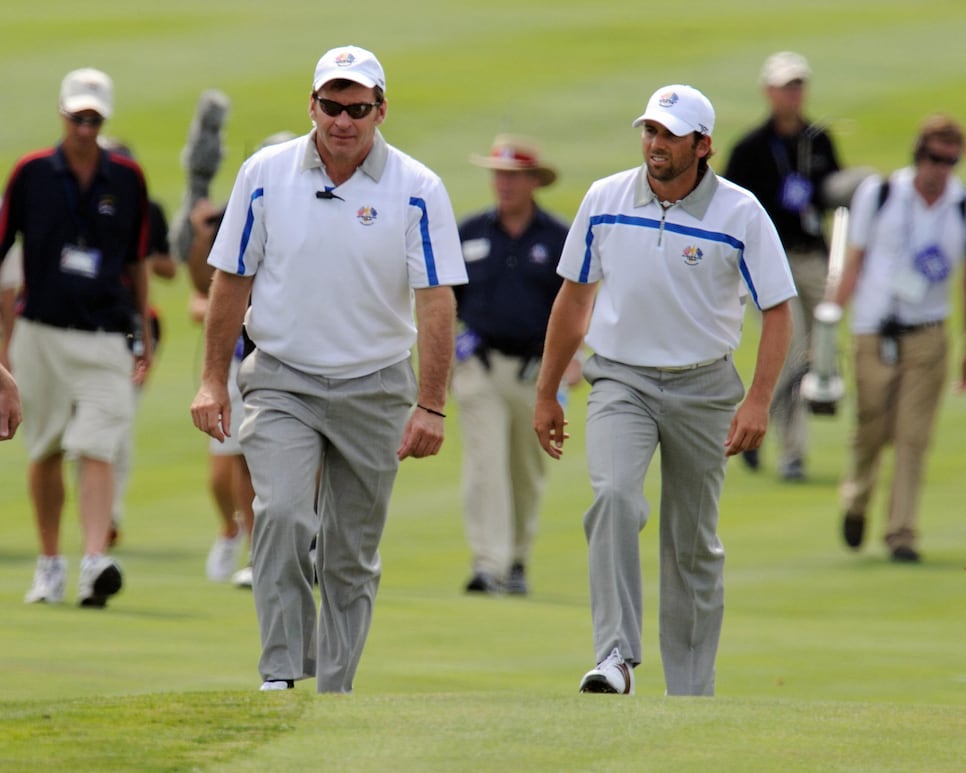 DON EMMERT
6. Karsten Manufacturing Corp. vs. USGA
At issue here were the controversial Ping Eye2 clubs, which had square, u-shaped grooves compared to the v-shaped grooves that were the norm. The actual problem the USGA had was byzantine—it had to do with the spacing between the grooves—but it spurred a long legal battle in which the USGA wouldn't "recognize" the clubs and in which the PGA Tour banned square grooves generally, possibly because of studies showing that the grooves impart a higher spin rate (in their language, it "changed the character and nature of the game"). KMC sued both the USGA and PGA Tour, and the USGA lawsuit was settled out of court in 1990 with the following resolution: The USGA would recognize the current Ping Eye2s, and Ping would stop making them (or, rather, conform to the new standards). By 1993, the PGA Tour settled as well, dropping the ban on square grooves … which had never been enforced in the first place due to an injunction. Thus ended one of the biggest equipment wars in golf history.

5. Seve Ballesteros vs. PGA Tour

In 1986, the 28-year-old Ballesteros objected to the tour requirement that he needed to play in 15 American events minimum to qualify as a member. He had only played in nine sanctioned events in 1985, meaning that despite being one of the world's best golfer, he was barred from almost every tour event in '86. He singled out commissioner Deane Beman specifically, who fired back that it was Ballesteros who had originally suggested the 15-tournament mark. Unfortunately, when he played 15 events in '84, he became burned out and quickly changed his tune. That resulted in him being essentially expelled from the tour in '86, and the spat went public … to the point that by '89, people were wondering if the enmity between the two men was keeping them from a solution. But Beman held firm, protecting the field strength of his events, and the 15-tournament rule remained in place, which makes him one of the few people to stand up to Ballesteros and come out on top.






4. Tiger Woods vs. Sergio Garcia

Just like Reed and Spieth, here we have two very different people who almost seemed duty-bound to clash. Tiger is the remote legend, quietly confident and intensely private, who until recent years was content to give very little of himself and remain mostly a product of our projections. Sergio is the intensely human, chatty, heart-on-his-sleeve character who is fated by his own nature to say and do some very dumb things. From the moment he challenged Tiger at the 1999 PGA Championship at Medinah (recall the boyish sprint up the fairway), the animosity between them built. It continued at the Battle of the Bighorn, a made-for-TV event, where Sergio beat Tiger and reacted with undue relish, at which point he fully invoked the competitive wrath of Tiger, who spent the next 15 years beating him thoroughly whenever he had a chance.

Of course, Sergio didn't need Tiger to fail dramatically, and before his 2017 Masters win that's mostly what he did under pressure. The stark contrast between the two men almost seemed to provoke idiotic reactions from Sergio, most notably the pointless "fried chicken" remark at the European Tour Players' Awards Dinner in 2013, which was clearly an act of lingering resentment based on his collapse to Tiger at the Players Championship weeks earlier. There was never real forgiveness, never real resolution, and it's impossible to think that they'll finish their careers in anything but a state of mutual dislike.

3. Brooks Koepka vs. Bryson DeChambeau

We live in a ridiculous digital age where narcissism and performative drama are the norm, so it would be tempting on the surface to downplay the Koepka-DeChambeau feud as nothing more than two guys who don't like each other getting bored on Twitter or rolling their eyes on camera. Two things make it different. First, both of them are very good, and both are major champions who are likely to win more. Second, as far as I can tell, Koepka's move of semi-tacitly encouraging fans to heckle DeChambeau, and rewarding those who do, is unprecedented. In terms of being purposeful, it's the most aggressive thing I've seen or read about in golf, and it makes this feud more personal and more combustible than when it was just a series of tweets.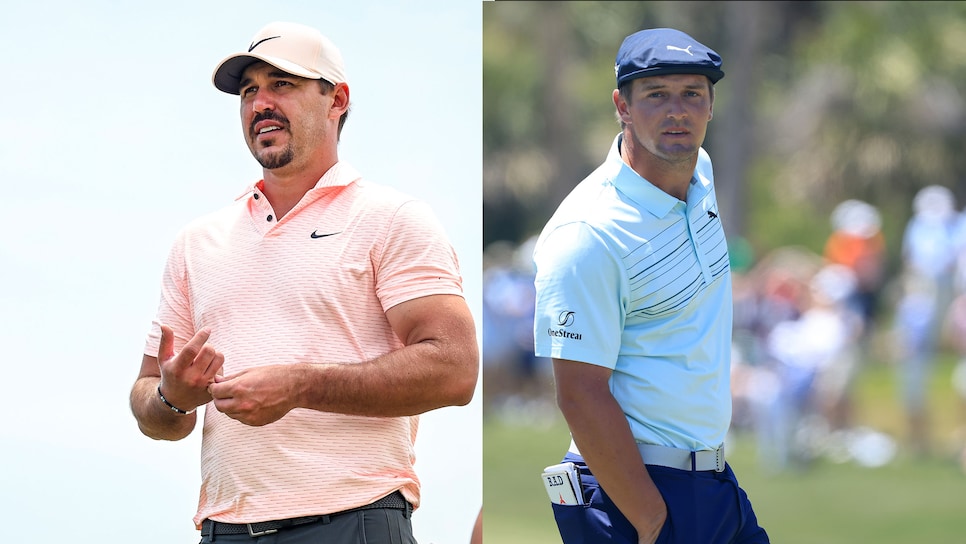 2. Lee Trevino vs. the Masters

Uniquely in the history of modern golf, Trevino actually boycotted Augusta National for three years, in 1970, 1971 and 1974. Publicly, at the time, he said he was skipping it because he didn't play well at the course, but later he admitted it was due to a conflict with a familiar figure, club co-founder Cliff Roberts.

"Cliff Roberts and I locked horns the first time I was there. I took a disliking to the man, and he took a disliking to me," Trevino told Global Golf Post. "I stayed away from there because I didn't want to have anything to do with him."

Trevino never even told his fellow pros at the time, and it's also true that he didn't like the snobbishness he saw at Augusta, or the excessive rules, and one year he opted to change in the parking lot rather than use the clubhouse. Trevino won all of the other majors twice each, but never broke through at Augusta even after his return. It was a feud that wouldn't brook that kind of neat resolution.






1. Paul Azinger vs. Seve Ballesteros
Here we have the opposite side of the feud spectrum, where two men who are very similar end up butting heads due to their passions. In fact, the relationship started pleasantly and would end with respect, too, in the years after the fires cooled. As Curt Sampson relates in his book War by the Shore, during the 1988 U.S. Open, Ballesteros encouraged Azinger in their final-round pairing, trying to coach him to victory. At the 1989 Ryder Cup, though, after being told by teammate Curtis Strange to be wary of gamesmanship in their Sunday singles match, Azinger pulled the surprising move of refusing to let Ballesteros switch out a scuffed ball on the second green. "Is this the way you want to play today?" Sampson quotes Ballesteros as asking, and from that moment on, their relationship was damaged. On the 18th hole of that match, Ballesteros disputed a drop Azinger took out of the water, and while Azinger won, 1 up, he was still brooding about the injustice years later.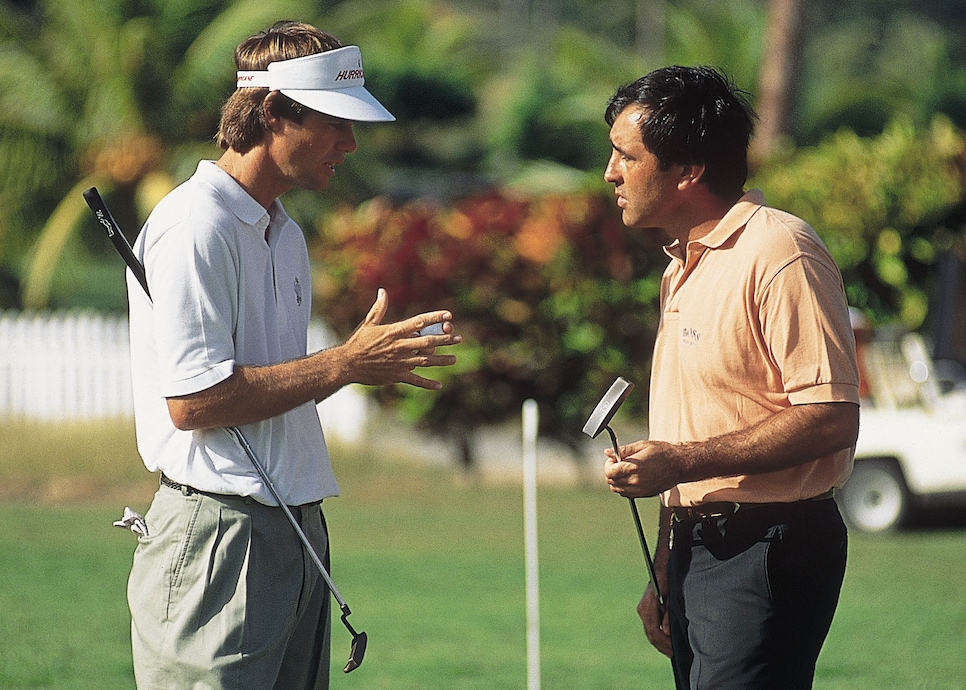 In 1991, at the infamous Kiawah Ryder Cup, fate paired the two men in the first match, and another dispute about a ball—the Americans had apparently used two different balls illegally, but didn't pay for it—angered the Spanish pair of Ballesteros and Jose Maria Olazabal, fueling them to a comeback 2-and-1 win. Afterward, Seve called Azinger a liar, Azinger called him "the king of gamesmanship" and accused him of coughing during his shots, and the Spaniards beat them again in the afternoon (on the way to going 3-0-1 as a pair). The enmity between them contributed greatly to the bad spirits at that bitter Ryder Cup, and cemented golf's greatest feud.


Read the original article on Golf Digest.