You Can Now Fulfill Your Dream of Working at Augusta National
Want to work at Augusta National? Well, here's your chance. If you choose to accept the challenge, that is.
The Masters venue has posted a job opening. And it just might be the most pressure-packed golf gig we can think of: Landscape Architect & Planner.
If you're interested, you should definitely take a look. It sounds like a fantastic opportunity, but again, the pressure. Have you seen what Augusta National looks like? There's not a blade of grass out of place. Heck, just look at the picture that accompanies the job listing: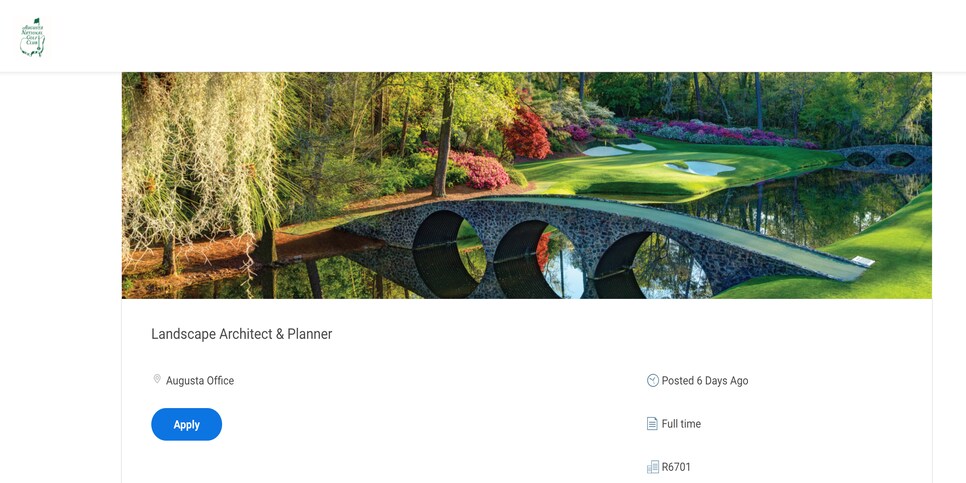 Absolute perfection. Those are the standards you have to meet.
Here are just some of the job's "essential functions":
– Collaboratively works with the Nursery Department and other ANGC departments to enhance existing and future campus land use and landscape features
– Collaboratively develops concept & schematic designs and topography mapping with responsibility for the preparation of presentation drawings, golf course models, and narratives
– Refines concepts with regard to Master Planning, preliminary plat work, layout, grading plans, and landscape plans
But wait! There's more! As if that wasn't enough pressure, you'd also be involved in setting up the course for the Masters itself!
– Works with third-party vendors integrating player data into course design
– Completes concept drawings and graphic work for internal concept golf course designs in relation to collected data
– Creates mapping that is integrated into the strategy and GIS set up of the Masters Tournament
So now you've potentially got to hear criticism from members, patrons AND players? Again, sounds really, really cool. But also sounds really, really stressful.
Anyway, if you think you have the credentials, go ahead and apply. We wish you good luck. And if you happen to get the gig, well, good luck then as well.